You are here
    Integrity committees promoting corruption in LGs- official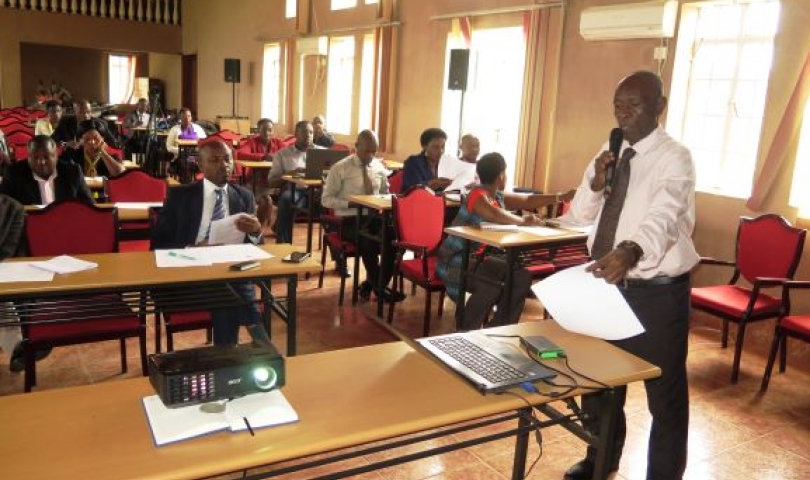 By Communication office
Ntungamo
An official with the ministry of ethics and integrity has showed concern at a rate with which members of the Districts' integrity promotion Forum (DIPF) are becoming culprits in several integrity scandals at times with the entire committees being taken on for investigations in corruption cases.
Mr Keneth Kauta a principal ethics officer in the ministry ethics and integrity says there have been more challenges with such members than even those outside the committee which is breaking the spirit of the fight against corruption in local governments.
"In Eastern region we have had a case in which the entire committee were arrested over bribery. Several other members of the committee have been accused of promoting corruption and worst of it when doing the committee work. This is very sad because we expect members of this committee to be of high integrity." Mr Kauta said.
The DIPF is a coordinating mechanism that aims at bringing the leadership of a district together to discuss issues of accountability and effective leadership in the district. It is guided by principles of Mutual respect, honesty and survive above self and aims at promoting good governance.
The committee is headed by the resident district commissioner, with the chief administrative officer being secretary. Other members include the district chairman, chairman district service commission, chairman district contracts committee, district PAC, District police commander, Resident state attorney, Municipality mayor, head of Judiciary in the district, District CID officer, District internal security officer civil society members among others.
It is composed under the anti- corruption interagency forum coordinated by the ministry of ethics  and integrity.
Mr Kauta however says many of the committee members have at several occasions been involved in corruption related scandals which itself undermine the integrity of the committee.
"In some cases where we have had great practices, we have had retired people or religious leaders being co-opted to the committee by the district. This is a committee that oversees corruption and mediates where possible,, we expect people on the committee to be of highest integrity but this is not. Most of the members have been caught in major corruption scandals." He said.
He was speaking on Wednesday during a workshop organized by the ministry, Africa Freedom of information centre (AFIC) and Cost both Non government organizations spearheading advocacy in promotion of open contracting in key government contracts at local government level. The workshop was organized to disseminate the Infrastructure monitoring report tool designed by Cost.
The Ntungamo Resident District commissioner Mr George Bakunda asked the ministry of e4thics and integrity to work on more sensitization of local government workers on open contracting. He asked members of the integrity committee to have high level restraint in handling corruption observing human rights as well as not being dragged into the scandals themselves.
"I think the district officials need to be trained more on contracting and management of contracts. Sometimes they lack information or they do not want to release the information on contracts.  We also call for much facilitation of the DIPF that major cases can be handled without necessarily going to court to waste even more money." Mr Bakunda said.
The Cost Africa regional Manager Ms Olive Kabatwairwe said the new tool with five sections fro the community, employees of a contract, contractor, supervisor and consultant shall help in monitoring especially by local governments since most reports of monitoring by councils especially have been lacking in content.
End.