You are here
Error message
Deprecated function: The each() function is deprecated. This message will be suppressed on further calls in menu_set_active_trail() (line 2405 of /home/ntungamogo/public_html/includes/menu.inc).
 Ntungamo Extension workers get 17 motorcycles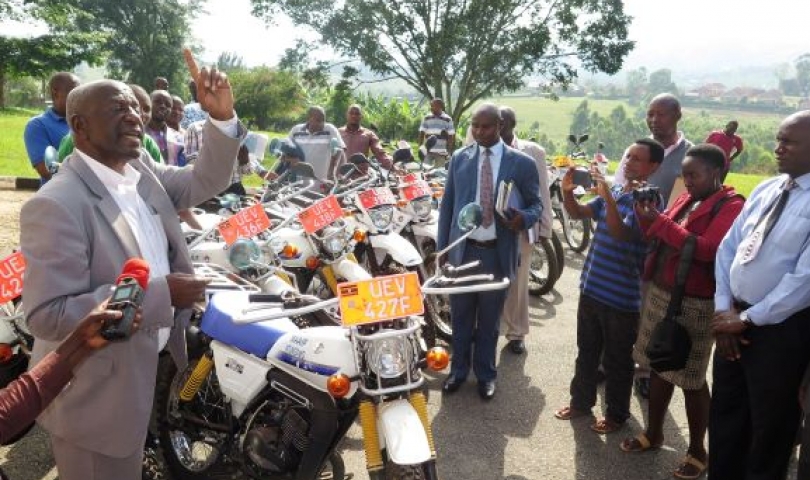 By Communication office
Ntungamo
17 motorcycles were on Wednesday given to the Ntungamo district Agriculture extension workers in an effort to promote Agriculture extension in the district. The motorcycles are part of the funding for the Agriculture cluster development project funded by the World Bank in chosen districts in the country.
The motorcycle, 11 Yamaha brand and 6 Suzuki make were handed over to the workers at sub county level by the Ntungamo resident district commissioner Mr George Bakunda and the district chairperson Mr Denis Singahache at the district headquarters.
Mr Bakunda said these shall make a long way in making extension workers more mobile in their work reaching more farmers in an effort to promote operation wealth creation, identify key farmers challenges as well as monitor government programs made in the Agriculture sector.
The production coordinator Mr Albert Mugabe said however the extension needs at least 70 motorcycles to have the department moving faster. The district currently has 11 town councils and municipality divisions and 32 sub counties with each sub county having two extension workers. The district last received motorcycles from the ministry of Agriculture, animal industry and fisheries in 2013 most of which have since worn out.