You are here
Error message
Deprecated function: The each() function is deprecated. This message will be suppressed on further calls in menu_set_active_trail() (line 2405 of /home/ntungamogo/public_html/includes/menu.inc).
Construction of 635 M Small Scale Irrigation Scheme Commissioned in Ntungamo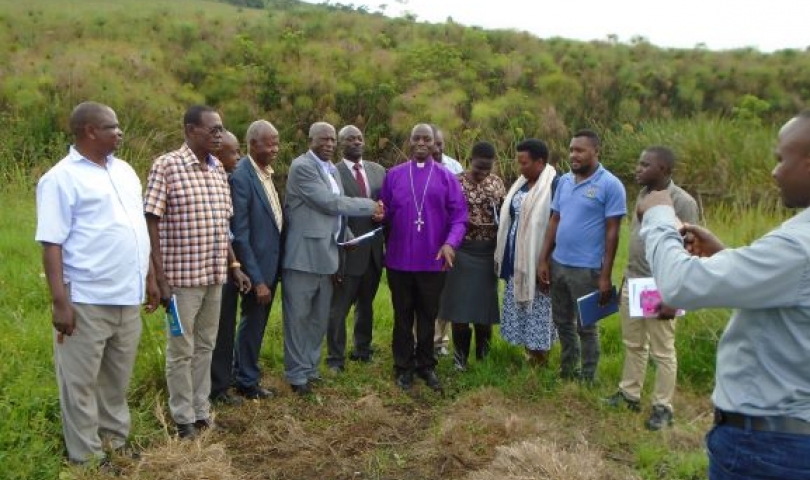 By Communication Office
Ntungamo
The ministry of water and environment on Thursday launched the construction of Kyamate small scale irrigation system in Ntrungamo Municipality.
The project is   being implemented by the ministry of water and environment- water production Regional Centre West Uganda with funding from government of Uganda aimed at improving people's livelihood through promotion of modern agriculture practices and protecting wetlands by proving irrigation facilities off wetland areas.
The engineer water production ministry of water and environment Eng.Ronald  Matovu  hailed the bishop of south Ankole Diocese the Rt .Rev. Nathan Ahimbisibwe for championing the modern agriculture which prompted the ministry to consider Kyamate Hill as one of the beneficiary areas.
Eng.Matovu noted that project will be on 20 acres of land benefiting 20 families but it's expandable and will cost over 635million shillings up completion in April 2020.
South Ankole Diocesan Bishop Rt. Rev Nathan Ahimbisibwe while signing the memorandum of understating for commitment at the diocese's board room asked the Ugandans to embrace modern Agricultural practices for increased production.
Denis Singahache the Ntungamo district local council five chairperson revealed that the fulfillment of the promise by president Museveni is motivational and will support farmers to do production throughout the entire year.
He commended the South Ankole Diocesan Bishop for supporting the government in poverty eradication and encouraging commercialization of Agriculture.
Ntungamo Resident district commissioner George Bakunda appealed to the beneficiaries to jealously protect the project to achieve its intended purpose.
 Gerald Karuhanga who requested for the project with other stakeholders asked the public to always embrace government programs and assured them of more projects which are coming in the municipality.
Recently the ministry commissioned Rwenshande in Nyamunuuka town council and others to be done in the district are Kahengyere in Nyakyera,Mpangaibiri in Ngoma , Kibeho and Kagugu in Rubaare.
Also present at the function was Topher Nshemereza deputy Resident district commissioner for Iasaih Byarugaba Kanyamahane.