You are here
Farmers urged to embrace climate smart Agriculture
Thursday, 09 September 2021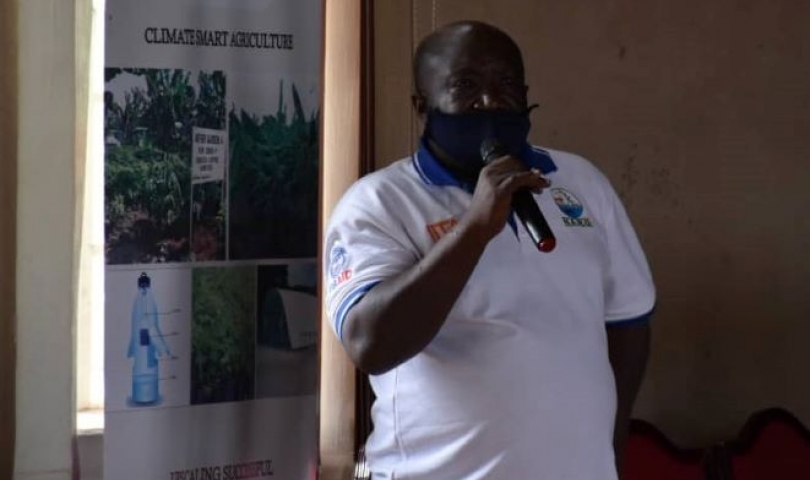 By Anthony Kushaba
Farmers in Uganda have been urged to embrace the climate smart agriculture project in a bid to increase their productivity as well as having high quality produce.
The call was today made by Dr. Godfrey Kagezi the senior research officer at the National Coffee Research institute under the National Agricultural Research organization says that the program's aim at equipping the small scale farmers and nursery operators to ensure that the farmers grow crops with excellent quality so that the yields are good and beneficial to the farmer.
Dr.Kagezi was today speaking at the launch of the climate smart Agriculture project held at Ntungamo district council hall.
Kagezi says that the project will last for five years and will also retool extension workers, business community and training of staff to masters level so that they improve on the skills which they will later extend to the farmers.
The program will also scale up shade trees, management technologies and managing of pests and diseases.
Speaking at the function, Ntungamo district chief administrative officer Nasser Mukiibi revealed that the district which has already registered success in beans production is set to focus on increased household income, export earnings and import substitution.
Mukiibi adds that the locals have now mastered the technologies of growing crops that enable higher productivity and expressed optimism that the project will
Albert Mugabe the district production officer says that the district will be able to address quality control and improve productivity.
Climate-smart agriculture (CSA) is an approach that helps to guide actions needed to transform and reorient agricultural systems to effectively support development and ensure food security in a changing climate.
 The project aims to tackle three main objectives: sustainably increasing agricultural productivity and incomes; adapting and building resilience to climate change; and reducing and/or removing greenhouse gas emissions, where possible.
Climate Smart Agriculture is an approach for developing agricultural strategies to secure sustainable food security under climate change.   The project provides the means to help stakeholders from local to national and international levels identify agricultural strategies suitable to their local conditions.