You are here
Leaders Urged to embrace Implementation of Actions from Regular Trainings for Improved Served Delivery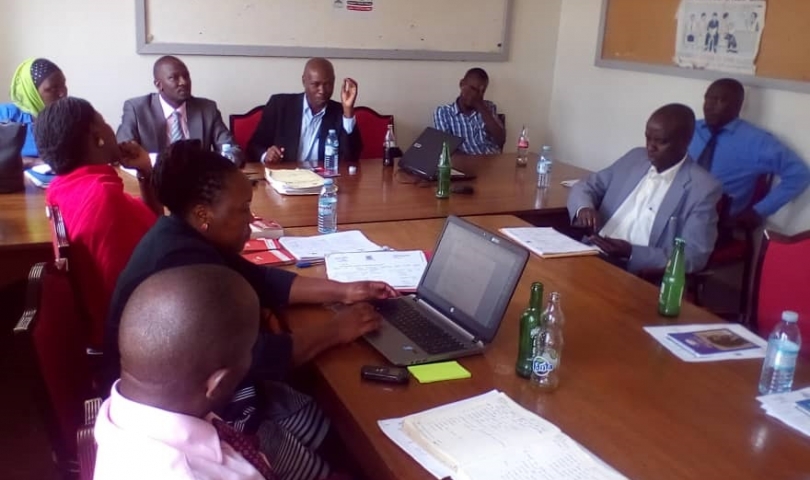 Leaders have been urged to embrace regular trainings and skills development if they are to effectively deliver services to the people they serve.
The call was made by the Ntungamo district Principal Assistant Secretary Fedelis Kizza. He was speaking at the follow up meeting with CCL (Centre for Creative Leadership) a SOCY (Sustainable Outcomes for Children and Youth Project) implemented by a consortium of partners' i.e CRS (Catholic Relief Services) the prime and TPO Uganda the Implementing Partner. 
The DAC (Direction, Alignment and Commitment) model training for targeted the top district and municipality leadership among them the district executive, CAOs office, Municipal Town Clerk, mayor and heads of departments held at Kabale white Horse Inn Hotel way back in June 2018.
The DAC model which is championed by   Centre for Creative Leadership (CCL) focuses at having a shared vision (Direction), aligning all activities to the vision and all the team members being committed to attainment of the district vision and mission access to information which can only be achieved by having an enhanced working relationship between the technocrats and the political leaders.
The district was impressed by the DAC model and they would wish to cascade it to all civil and political leaders across the entire district leaders at all levels including those from its Lower local Government Units.
Kiiza revealed that regular trainings have helped to bridge the gap between different departments thus effective service delivery.
Ntungamo district speaker – Amutuhaire Elijah commended the the commitment of both the technical and politicians; they have now the shared views and knowledge with a clear direction. Also applauded the civil servants on information  sharing information and implementing resolutions of the council unlike before the DAC model training.
Ampeire Sakina the Ntungamo District Vice Chairperson revealed that the training has enable leaders whether politicians or technocrats to respect the views of others in addition to easing information flow and effectiveness.