You are here
Error message
Deprecated function: The each() function is deprecated. This message will be suppressed on further calls in menu_set_active_trail() (line 2405 of /home/ntungamogo/public_html/includes/menu.inc).
Locals receive alternative livelihoods as compensation from the green climate change project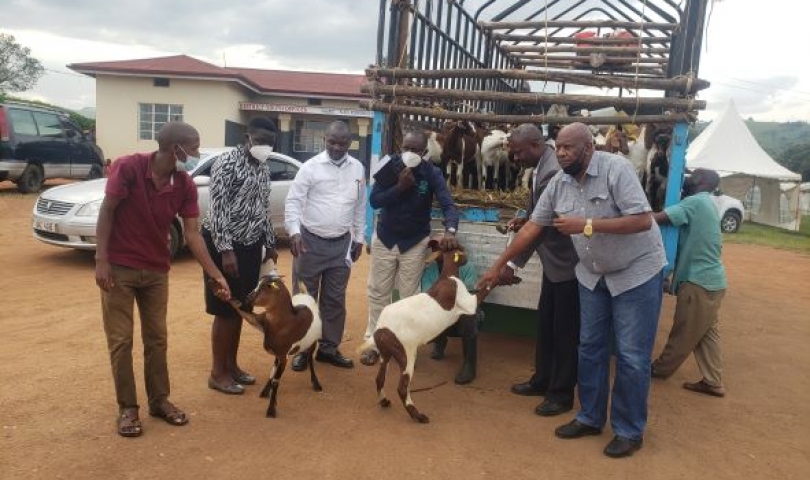 By Communication office
NDLG
At least 50 families in Rwenanura-Kakukuru town council in Ntungamo district who were evicted from the Rufuha wetland in 2018 received alternative livelihoods as compensation from the Green Climate Change Project.
Goats, fish ponds, and an irrigation scheme are among the compensation measures provided to the community in order for them to appreciate living with the wetlands while not disturbing them and instead assisting in their conservation.
In September 2018, at least 100 families were evicted from the Rufuha wetland, and their gardens were destroyed, while several trenches dug to dry up waterlogged areas were backfilled.
As compensation, residents were promised alternative means of subsistence.
 Dinah Tumwebaze, the Ntungamo district natural resources officer, handed over the livelihoods to fathers at Kyenjojo village on Saturday, saying the livelihoods were given to the communities that were able to restore the wetlands in appreciation for their efforts.
Asuman Kigongo, the Ntungamo district vice chairperson who is also the production secretary, thanked the government for thinking about the evictees, but added that the project was much delayed for people to trust the government when they are evicted from such wetlands.