You are here
Ntungamo launches polio vaccination campagn
Thursday, 13 January 2022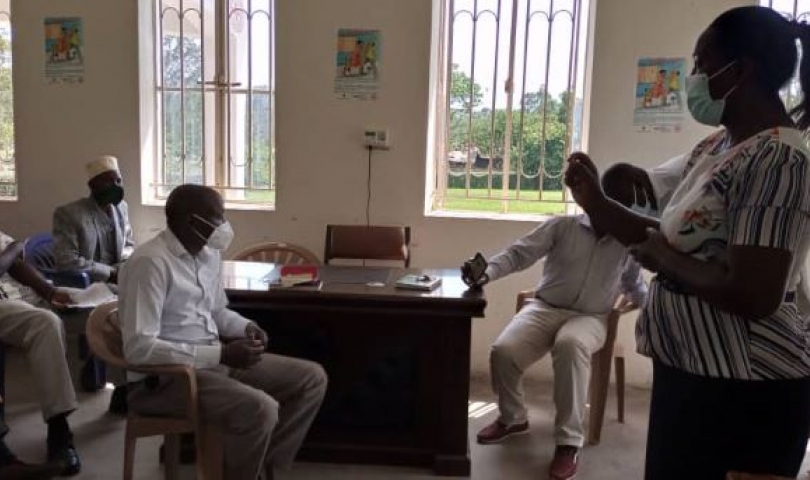 By Communication Office
Ntungamo
Ntungamo's acting district health officer (Ag.DHO) Sr. Hope Katusiime has launched a three-day house to house vaccination campaign against Polio.
The campaign that will take three days is set to kick off on  Friday the 14th to 16th January 2022  apart from Ngoma and Rwentobo where vaccination will be on Monday 17th and Wednesday 19th Jan 2022 where all children under the ages of five are highly encouraged to be vaccinated.
The campaign comes at a time when the country is on high alert following a communication from the Health Ministry that samples on fecal matter collected in the capital Kampala tested positive of a rare wild poliovirus type 2, whose vaccine was withdrawn from the country's routine immunization exercises back 2016.
Twesigye Nestelio, the District Health Educator said that Ntungamo District received 150000 vaccine doses and that they are targeting to immunize 120000 children under five.
He cautioned areas where there is some resistance like Nyakyera, kafunjo, and Rukarango parish in villages like kamoshe, Nyakeina and Rubingo where parents hide their children not to be vaccinated. Nestelio says Ntungamo District does not have Polio however there is a high risk of international transmission since Uganda is surrounded by 3 countries infected with Polio.
He however cited on all children under five years of age whether previously vaccinated or not, will be given oral polio vaccine (OPV) drops in the mouth."All health workers involved in this campaign must wear personal protective equipment (PPEs) and avoid touching the children because we must observe the Standard Operating procedures (SOPs) against COVID-19, he said.
The Ntungamo District acting Health officer (Ag.DHO) Sr. Hope Katusiime encourages the community not to believe in myths about polio vaccine emphasizing that the vaccine is safe.
She said they have laid some strategies to reach unreachable areas though there are limited funds given to health workers and said that they faced some challenges within health workers due to an increase recently over covid-19 cases.
DHO Katusiime said all the necessary items to use during this exercise are already in place and that even children in boarding schools will also be vaccinated.
Peace Kaconco, the counselor, an activist who heads people living with HIV/AIDS in the district cautioned religions who go against government policies where she said that so far two people died because they stopped taking medicine knowing that the holy spirit will heal them.
She, therefore, called upon religious leaders to preach a good gospel instead of misleading and pinpointing some people which leads to stigma. The stakeholders pointed out "Engiri" religion in the Ntungamo district which is misleading people against polio immunization.
The launch were attended by religious leaders, cultural leaders, media among others where religious leaders requested to form association within the district.Dr Alfred Driwale, the Programme Manager of the Uganda  Expanded Programme on immunisation-UNEPI told the media recently that the number of un-immunized children has been piling over the years. He says one of the reasons for this is accessibility for, especially hard to reach areas.
By moving door-to-door, he says health workers will be able to spot those that can't make it to health facilities.