You are here
Error message
Deprecated function: The each() function is deprecated. This message will be suppressed on further calls in menu_set_active_trail() (line 2405 of /home/ntungamogo/public_html/includes/menu.inc).
Ntungamo moves to contain an outbreak of lumpy skin disease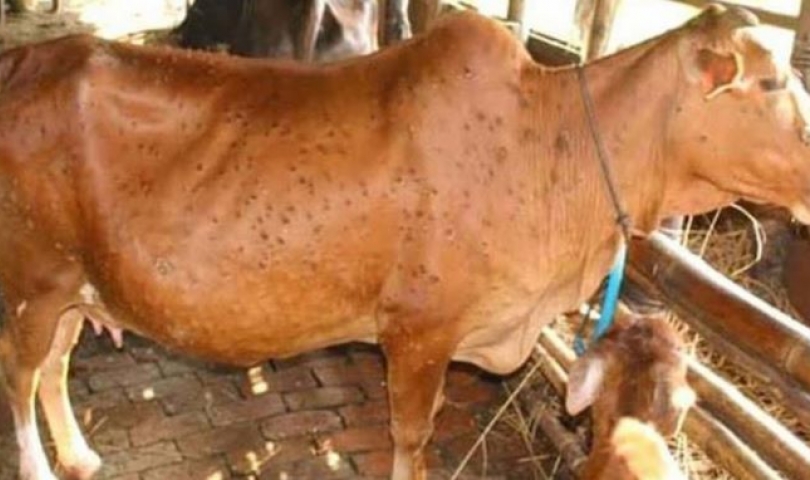 By Communication office
Ntungamo
 Authorities in Ntungamo have embarked on a move to check the spread of lumpy skin disease following an outbreak in the area.
The outbreak has so far been confirmed in the sub counties of Rukoni East, Rukoni West, Nyakyera and Kitwe town council.
Julius Baguma a resident of Nyakyera sub county says that they outbreak has hit hard the farmers since they have to meet the cost of the treatment on their own.
Dr.Yaake Basulira the Ntungamo district veterinary officer says that the district leadership has embarked on sensitizing the farmers on the measures to be taken in a bid to check the spread as well as ensuring that the affected animals are not lost.
Yaake says that they have also encouraged farmers in the area to embrace vaccination but at their own cost.
Lumpy skin disease (LSD) is caused by lumpy skin disease virus (LSDV), a virus from the family Poxviridae, genus Capri poxvirus. Sheeppox virus and Goatpox virus are the two other virus species in this genus.
The principal means of transmission is believed to be by arthropod vector.
Though no specific vector has been identified to date, mosquitoes (e.g. Culex mirificens and Aedes natrionus), biting flies (e.g. Stomoxys  calcitransand Biomyia  fasciata)and  male  ticks (Riphicephalus  appendiculatus and Amblyomma hebraeum) could play a role in the transmission of the virus. The importance of different arthropod vectors is likely to vary in different areas depending on the abundance and feeding behavior of the vector