You are here
Nyabushenyi Sub County Commissioned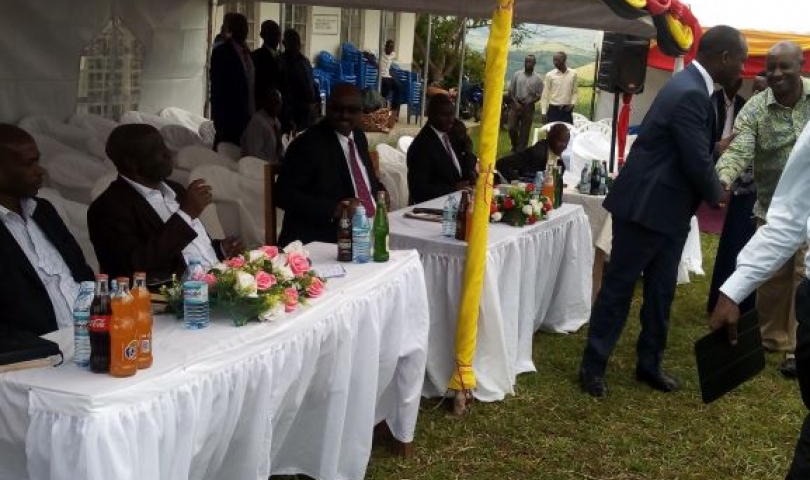 By Communications Office
Ntungamo DLG
The newly created sub county of Nyabushenyi has been commissioned as government emphasizes its commitment to extend services to lower administrative units.
The permanent secretary in the ministry of local government Benjamin Kumumanya  while commissioning the newly created Nyabushenyi sub county which was curved out of Nyabihoko Sub County at ceremony held at Nyabushenyi Health centre II grounds in Kajara county Ntungamo district revealed that the government is focusing on ensuring that locals get services without first trekking long distances.
He also called on members of the public to ensure that they report saboteurs who cripple the implementation of government programs.
Kumumanya asked public to monitor and report errant officers if effective service delivery is to be realized
Kajara county Member of parliament Micheal  Timuzigu  Kamugisha urged  leaders in the newly created Nyabushenyi Sub County to ensure that the sub county focuses on development and addressing challenges that the locals face instead of bickering.
The Ntungamo district chairperson Dennis Singahache revealed that the district is committed to extending services to the locals and challenged the locals to educate their children to tap into the employment opportunities brought about by the creation of the new administrative units.
 Ntungamo district deputy chief administrative officer Leonard Ahimbisibwe called on the locals in the arrear to collectively work towards ensuring that the sub county achieves its intended purpose.