You are here
Error message
Deprecated function: The each() function is deprecated. This message will be suppressed on further calls in menu_set_active_trail() (line 2405 of /home/ntungamogo/public_html/includes/menu.inc).
Police officers from Somalia commended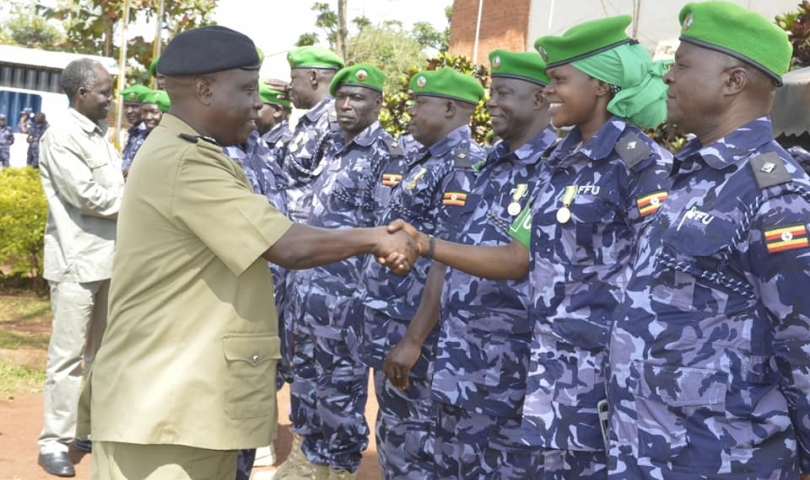 By Editorial Team
Over 160 Formed Police Officers (FPU) from the Field Force Unit that have been in AMISOM mission in somalia on a one year tour of duty have been appreciated for their endless efforts they put in to bring and preserve peace in that country.
This was during the debriefing ceremony that was held today at Field Force Police (FFP) headquarters,Naguru .
"I want to thank you again for the good job you did in Mogadishu, We are very happy and proud of you as a country and Uganda Police Force, welcome back and feel at home," said AIGP Grace Turyagumanawe, Director Peace Support Operations in Uganda Police Force during his address to the returnees.
Turyagumanawe called upon the officers to apply the international experience acquired in Somalia into the policing in Uganda so as to fight crime .
"When you were there you were fighting terrorism,so now that you are back home, don't relax we need your experience , we are looking forward to harness your experience in international policing , utilise this exposure you have brought to strengthen the Uganda police force, " Turyagumanawe said.
He also cautioned officers not to misuse their hard earned money from the mission.
"Don't misuse the money buy valuable things,take due diligence don't be defrauded,for those going to buy land find out if the land you are buying is okay
don't squander your savings,have good life and keep healthy" he said