You are here
Error message
Deprecated function: The each() function is deprecated. This message will be suppressed on further calls in menu_set_active_trail() (line 2405 of /home/ntungamogo/public_html/includes/menu.inc).
Politicians Advised on Need to Pursue Further Studies
Wednesday, 22 August 2018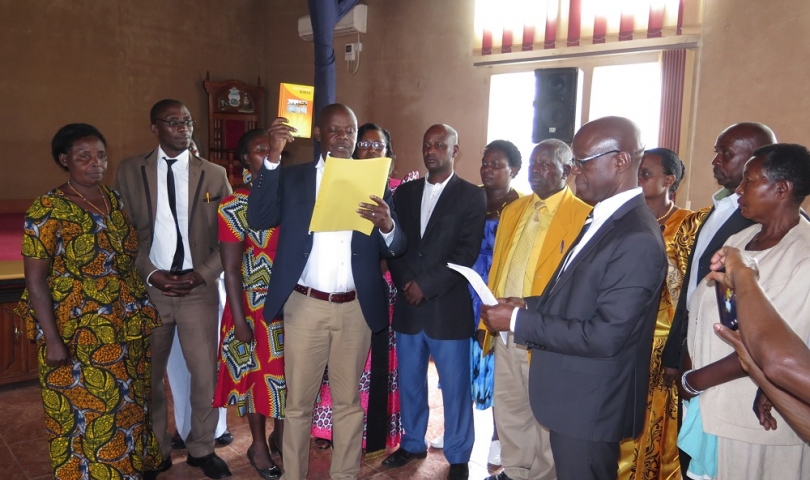 By Communications Office
NDLG
Ntungamo district local council five chairperson Denis Singahache has urged leaders in the district to focus on going for further education if they are to effectively serve their electorates and hold technocrats accountable.
Speaking at the function, Ntungamo district chief administrative officer Kweyamba Ruhemba urged the politicians to desist from corrupt tendencies which he says cripple service delivery
Elijah Atuhaire the Speaker Ntungamo district cautioned newly sworn in leaders to focus on addressing the needs of the people instead of fronting personal needs.
Atuhaire revealed that some local leaders often flout rules of procedures and endup misleading people they leaders and causing loss to the government.
Apollo Tandeka the Ntungamo district internal security officer who represented Resident district commissioner Justine Mbabazi called on the politicians to ensure that they work towards fighting poverty in their respective communities if the vision 2020 of attaining a middle income status is to be realized.
Among those sworn was Julius Rwenzigye the LC V councilor for Rubaare town council who is the first councilor to be elected in Ntungamo district from the forum for Democratic Change –FDC.
Those sworn in include newly elected chairpersons, Youth leaders, Local council V councilors, LC III Councilors and leaders of persons with disabilities. They are dominated by leaders from newly created sub counties, town councils and replacements for vacant posts.
They include Five LC III Chairpersons, Four district councilors,Three Female councilors for the elderly at sub county level,  Three PWDS  Councilors   at sub county level,Three female youth councilors at sub county level,Three Male councilors for the Elderly at sub county level,Three Male PWDS councilors at sub county level,Three Male youth councilors at sub county level and Three Women councilors at sub county level.