You are here
Error message
Deprecated function: The each() function is deprecated. This message will be suppressed on further calls in menu_set_active_trail() (line 2405 of /home/ntungamogo/public_html/includes/menu.inc).
Ray of hope for PWDS as SDU commences operations in Ntungamo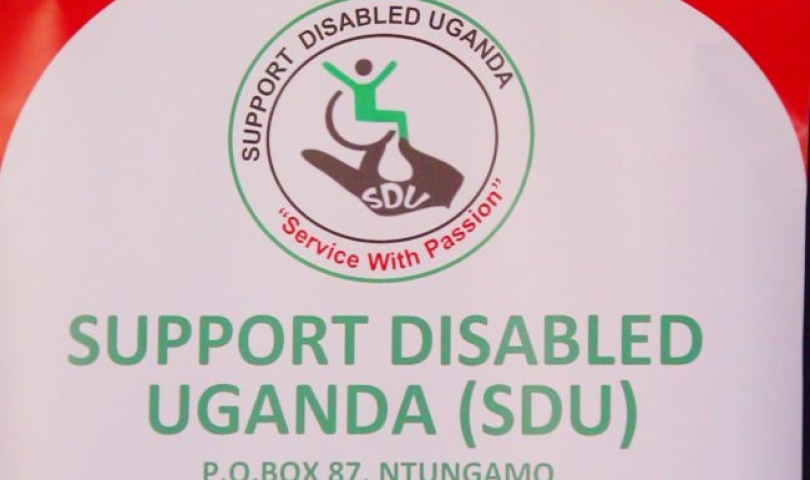 By Anthony Kushaba
 NDLG Communications Office
The once fading hopes for the persons with disabilities in Ntungamo are now coming back to life with a sight of light at the end of the tunnel.
With hundreds of persons with disabilities left to struggle on their own in the district, their hope of having a better future and having an opportunity to favorably compete with others and achieve quality education were slowly but surely fading.
With the many numbers stuck in the villages, Person with disabilities in Ntungamo have a cause to smile after Support disability Uganda moved in to solve the gaps that have left the PWD's in a disadvantaged position.
 Support Disabled Uganda –SDU on Tuesday this week held a stakeholder's entry meeting with the leaders in Ntungamo district held in the district council hall to chart a way forward on how best persons with disabilities can be supported to achieve their full potential.
 
Speaking at the meeting, the executive director of Support Disabled Uganda -SDU Betty Kyogabirwe tasked the leaders to include the PWDs on various committees of district disability councils as the only way to reduce the negative attitudes of parents about their vulnerable children in communities.
Kyogabirwe revealed that parents must be sensitized about disability and be made to understand that children with disabilities are capable of making it in life for the betterment of their families and the entire world.
She further noted that there has been a challenge of interpreters in schools and health facilities for people with disabilities thus crippling service delivery.
Ntungamo resident district commissioner George Bakunda revealed that is high time for the government to consider teaching of sign language in all schools so that the persons with disabilities can easily interact with others.
Bakunda says that the initiative with help in ensuring that the communication gaps are addressed in all sectors.
Bakunda revealed that persons with disabilities in Uganda are facing challenges especially those with hearing and speaking impairment to get access from service from health facilities, political, civil and religious leaders but when they are trained in schools they will be able to communicate with them effectively.
He further commended Betty Kyomuhendo the executive director of Support Disabled Uganda -SDU for the initiative aimed at improving the wellbeing of the disadvantaged people living with disabilities, orphans and other vulnerable children and adults within communities of Ntungamo district.
Ntungamo inspector of schools in charge of special needs education Smart Atukundaire attributed the lack of sign language teachers and interpreters to inadequate funding.
She added that the district is also unable to raise funds for constructing staff houses for the teachers who are employed at Rweera and Kitunga special needs units which he says makes it hard to attract skilled employees as they always want to work in better conditions.
The chairperson of Ntungamo District Disability council Rukundo Hamidi asked leaders to advocate for disability rights rather than waiting for the mercy of non-government organizations.
Rev. Asaph Mujuni the south Ankole diocesan head of Youth and communications urged parents to embrace the education of their children with disabilities in order to empower them academically.
Nsabimana Livingstone the programs manager Support Disabled Uganda (SDU) said that they have formed four PWDs community groups in Nyakyeera, Rubaare, Ruhaama East, and Nyarutuntu and many others will be supported with piggery projects next month in a bid to improve on household income and standards of living.
 
The local council five chairperson for Ntungamo Samuel Muchunguzi revealed that the leadership of the district is ready and willing to ensure that the persons with disabilities are supported and helped in all the ventures that they persue.
Muchunguzi says that the persons with disabilities have on several occasions made the district and the entire country proud using their unique skills and talents thus require special attention.
 
 Nasser  Mukiibi the Ntungamo district chief administrative officer revealed that it is high time that people understand that individuals are gifted differently and look for their strengths and have them developed instead of focusing on the weaknesses.
Some of the PWDS having lunch
Mukiibi revealed that once there is a mindset change and the strengths of the persons with disabilities are given extra attention, there is no doubt that the persons with disabilities are changing the world.

Ntungamo district has 37% of PWDs out of total population according to UBOS of 2014