You are here
Error message
Deprecated function: The each() function is deprecated. This message will be suppressed on further calls in menu_set_active_trail() (line 2405 of /home/ntungamogo/public_html/includes/menu.inc).
US Ambassador Calls for Collective Responsibility in Addressing Child Marriages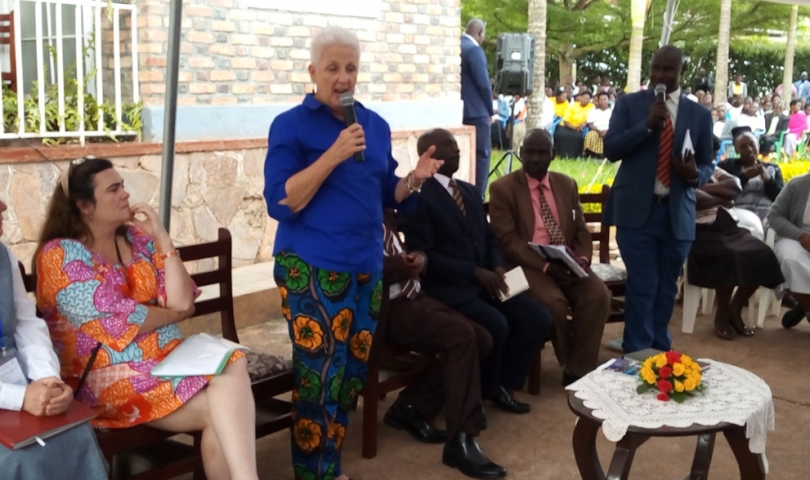 By Communications office
Ntungamo
American Ambassador to Uganda Deborah Malac has called for a collective responsibility towards addressing challenges of child Marriages.
Her Excellency was on Thursday addressing leaders of Ntungamo and residents during a dialogue held at Rushooka health centre three in Kayonza Sub County.
Malac who is on a tour of the facilities and projects supported with funding from the United states of American revealed that  the statistics indicating that 12% of the mothers that visit health facilities in the district are those who became pregnant when they are teen agers.
  Beatrice Chemisto the deputy district director of health services in Ntungamo says that teen pregnancies are a big challenge and asked parents to wake up and embark on their responsibilities.
She revealed that issues such as domestic violence, child labor, Alcoholism among others have escalated teen pregnancy and child marriages.
Denis Singhahche the Ntungamo district local council five chairperson commended the American People for always moving in to supplement government efforts in the health sector.
Ntungamo  resident  district commissioner George Belinda says that the challenge results from family  break downs especially  in homes where parents  are  habitual  drunkards.